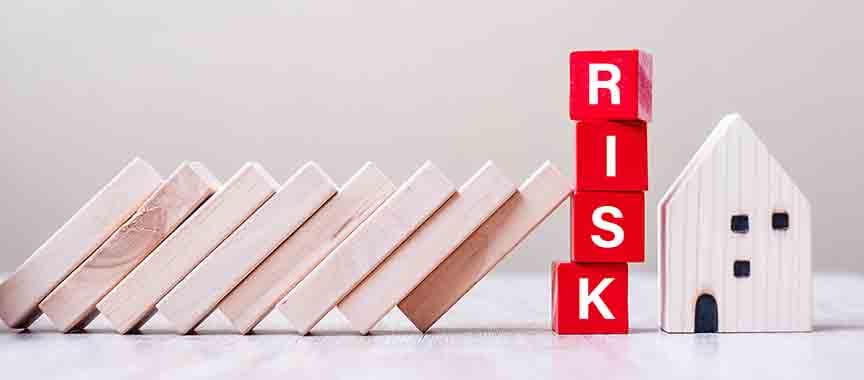 As you can imagine many factors come into play when determining the cost for insurance to cover a real estate portfolio. Knowing how these different factors play into each other can influence and strengthen your overall real estate investment strategy. It is important to note that every situation is different, but some there are some general rules of thumb to consider. If you're on the fence about whether you should purchase a new property, estimating the insurance cost can help determine whether or not you move forward with the purchase.
Amount of Coverage
One of the most intuitive relationships when considering insurance costs is the amount the property is insured for. As the amount of insurance coverage increases, the cost increases with it. When considering how much to insure the property for, you should consider what your plans would be in the case of a total loss. If you are interested in rebuilding completely, then insuring for the replacement cost is your best option but is also typically a higher amount. A more affordable option if you would just want the cash in the case of total loss is to insure for the purchase price or purchase price with improvements. This amount is typically lower, resulting in premium savings.
Claims History
A large determining factor in your cost of insurance is past claims history. Best practices for maintaining properties and reducing tenant or guest injury is critical. Updated electrical panels, appliances in good condition, and the elimination of trip & fall hazards make a huge difference between best rates and surcharges for poor claims history.
Location
Location is also a determining factor in the cost of insurance on any property. Properties that are in areas with an increased risk of natural disasters are likely to see higher insurance rates. Non-coastal properties will average .5 to .75% of the insured value. Compare this with coastal properties which average 1.25% to 2.5% of the insured value, depending on location.
Physical Condition of the Property
The age and overall physical condition of the property are also important when determining insurance premiums. For example, a 50-year old property with deteriorating pipes is more likely to experience plumbing damage than a building erected within the last few years with new infrastructure. In this example, all other factors being equal, the older property would be more expensive to insure. If a property has received upgrades to its infrastructure that is often taken into consideration as lowering the likelihood of possible claims and keeping premiums down.
Deductible
Adjusting your deductible is one of the easiest ways to save money on your insurance costs. A low deductible means you are pre-paying for losses you may never incur. A higher deductible lowers your rates while still maintaining coverage in the event of a disaster. If you intend to only make claims for larger losses maintaining a higher deductible can help you save money on premiums.
Multiple Properties
If you have multiple properties, one of the easiest ways to save costs on a real estate portfolio of at least five properties is to utilize a Master Policy with Real Estate Investor Insurance. By bundling multiple policies together into one policy together you can realize savings thanks to economies of scale. There are many cost savings the insurance company can realize because of a reduction in administrative costs, which can then be passed onto you. Keep in mind that even if you utilize a Master Policy, the characteristics of each property will still affect the insurance costs.
Click here to view our blog "Protecting Your Real Estate Assets" to learn all the benefits of a Master Real Estate Investor Insurance Program
In the end, the best program for your business depends on your business plan and the features that appeal to you. No matter the case, if you're looking to insure multiple real estate properties, you will need to get an insurance quote.Unitas Financial Services has decades of experience and are experts in insuring real estate portfolios. To request an insurance quote for your portfolio please click the blue button below.