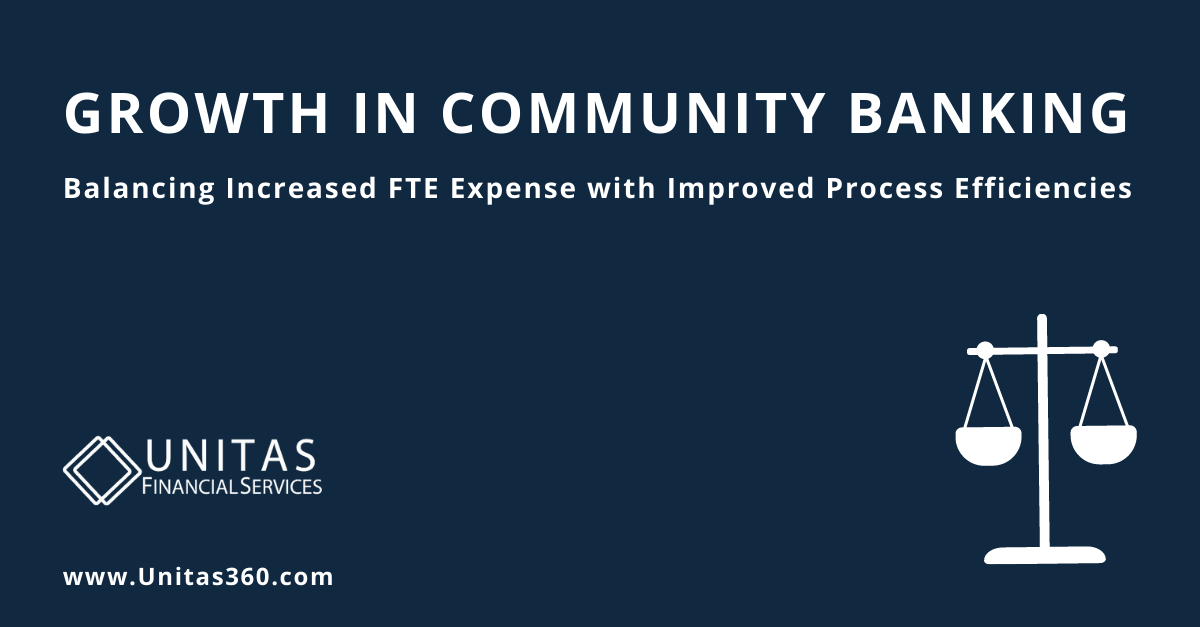 Balancing Increased FTE Expense with Improved Process Efficiencies
Across various parts of the country, community banks and credit unions are experiencing massive overall growth. This has led to faster growth in return on asset ratios, higher net interest margins, and higher loan growth rates. Even with looming economic hurdles on the horizon and talks of an impending recession, executives at these community financial institutions are trying to strike the balance between managing the growth, maintaining operational efficiency, maximizing talent management, and navigating new employee hiring cycles. At an elevated level, let's focus on this continuous attempt for community lenders to find the balance on these multiple fronts.
Fine Line of New FTE Expense Balanced with Growth
With growth at a bank or credit union comes the need to hire new employees to support the increased volume of administrative workload, especially on the loan operations side. Hiring new FTE staff is always an expensive endeavor. Banking executives struggle with this balance all the time, but this is especially true in the unique job market that we have in this country currently. Though hiring new staff is exciting for a growing institution, the expense that comes with it is real. With the training and coaching that occurs for new hires at these community lenders, it is an ongoing effort to increase production, motivation, morale, and excellence. Clearly, it is quite important to get these hires right – lending institutions cannot afford to repeat the cycle often.
Operational Efficiencies Remain a Focus for Banks and Credit Unions
New hiring cycles for community lenders, though an exciting time for the communities they serve are indeed expensive endeavors for the bank or credit union. Strong analysis is accomplished internally to gauge the need for new FTE with this growth trajectory vs. the impact on the bottom line. But how does a bank or credit union really know if they are operating at MAX-efficiency with the staff they already have? Within the loan operations team, numerous inefficient procedures – some might say 'old school' procedures – might remain in place. Each community lender is certainly unique with the structure of their internal processes, but no doubt that an expensive round of hiring to backfill these 'old school' procedures is not the definition of efficiency. There is a clear aspect of talent management that needs to be considered. How can banks and credit unions maximize the talents of their existing staff in the hopes of avoiding the pitfalls of expensive hiring cycles?
Where Can a Lender Find Holes in Their Efficiencies to Avoid FTE Hiring Mistakes?
Within the extensive processes and procedures of a loan operations department, there are plenty of areas to analyze for inefficiencies. One specific area involves insurance tracking. No matter the structure in place at a community bank or credit union, tracking down insurance documentation can be cumbersome and frustrating – for staff and customers alike.
A recent conversation with a community lender executive shed some light on the topic. He shared that when his team made the request for another round of hiring to assist with the administrative workload connected to insurance tracking specifically, the executive team paused. They recognized that it made more sense at that point to truly analyze the cost comparisons of increased staff vs. enhanced efficiencies in procedures. The institution realized that hiring new employees was expensive – maybe there was a stronger solution they were missing. His team performed a thorough analysis of the FTE expense associated with their tracking procedures and compared those hard costs to the expense of the premiums of a blanket insurance policy – which eliminates nearly 100% of the FTE expense. It was clear to the executive that the tangible expense connected to their insurance tracking procedures far outweighed the cost of protecting against that risk of uninsured loss with a blanket policy. In his mind, hiring a new FTE to help track down borrower insurance documents was clearly not the fiscally responsible solution. A full review and analysis of 'blanket insurance options' – across all lending portfolios – commenced at the institution.
It is acknowledged that this type of internal analysis is unique at every bank and credit union. There is no clear answer across all institutions when trying to strike that balance between growth and efficiency. But one aspect that is common across the board – hiring cycles of new FTE is expensive. The talent management component of this analysis is vital. Finding more productive roles for your existing talented staff by carving out enhanced efficiencies could be a solution that saves the institution some serious expense in the end.