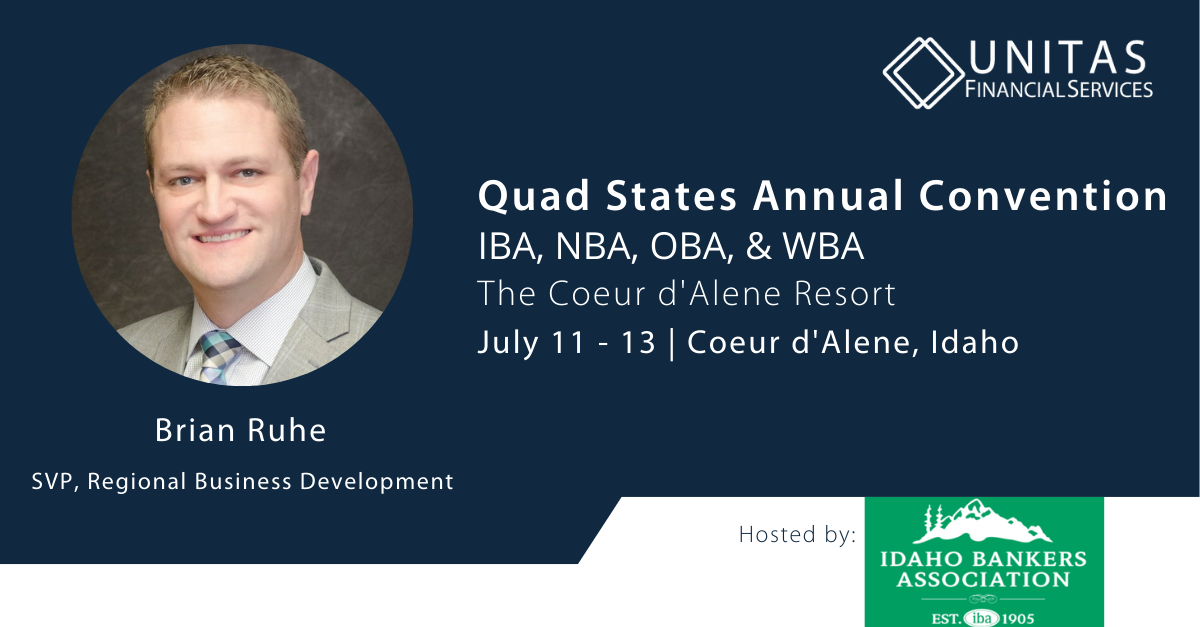 Unitas is thrilled to participate in the IBA, NBA, OBA, and WBA 2022 Quad States Convention!
Look for us in beautiful Coeur d'Alene, Idaho Monday, July 11th -Wednesday, July 13th, to celebrate everyday heroes!

Our own Brian Ruhe will be on hand to experience the conference and discuss Insurance options for protecting your bank's collateralized portfolios. Stop by the Unitas booth and register to win a Yeti Cooler! Plus you can grab a delicious Cheryl's cookie! 🍪 We can't wait!
You can also learn how to increase your loan volume. Just stop by our exhibit and ask Brian.
Brian Ruhe
SVP, Regional Business Development
Having joined Unitas Financial Services in November 2017, Brian serves as a Senior Vice President of Regional Business Development. Brian is a graduate of The Ohio State University, with a B.S. in Allied Medicine. For the last 15 years, he has gained experience in various aspects of sales and business management, including time in mortgage banking and credit consulting. He understands the lending challenges that community banks and credit unions face across the landscape of this great nation and is motivated to offer them solutions to improve their overall strength. He and his wife cherish the daily challenges and delights in raising their four young daughters, life is certainly busy.
Why Unitas Financial Services?
Our Mission
At Unitas, we know that community banks, credit unions, and investors are a driving force in their community's success. That's why we develop innovative, fully customizable portfolio protection programs and other financial products for lenders and investors, enabling them to remain strong, efficient, and protected as they continue to grow and enrich their communities.
Our Values
We value honesty and integrity, vast product knowledge, and maintaining long-term collaborative partnerships with our clients.
How we move our mission forward every day:
We respond quickly; we do what we say we will do, we exceed expectations, we are always learning, we value our relationships with each other and our customers, and demonstrate that daily to our colleagues and customers.
What You Get From Us
Comprehensive portfolio protection programs customized for your exact needs

Insurance and financial products that help community banks, credit unions, and investors become more efficient, increase revenue, manage risk, and improve their customer experience.

Comprehensive training
Dedicated claims manager that will advocate for your claim from start to finish
The most responsive customer service in the industry
Dedicated Customer Success professionals
Key people with extensive lending experience and education
A community-minded partner