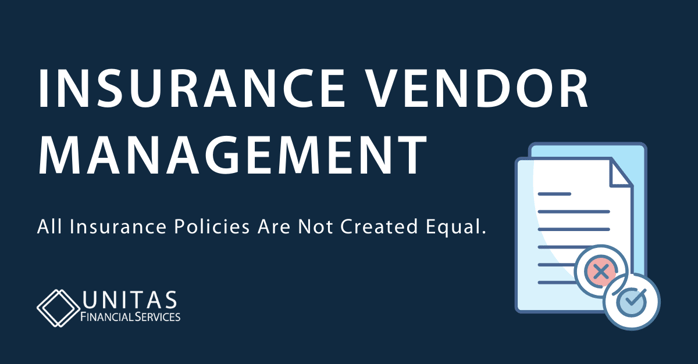 We talked about the specialization of the insurance company and the agent in the last article in this series. We covered the 9 Critical Steps for Insurance Vendor Management in the first. In this article, we tackle the actual insurance policy.
All insurance policies are not created equal! This is especially true when it comes to collateralized portfolio protection for financial institutions. Two policies from the same insurance company can be very different. Have your agent explain their policy and review it with you section by section. Have them explain how the wording will affect coverage and claims, and ask questions! This process will unveil whether or not they really understand it themselves, and it will show any deficiencies of the policy. Insurance agents and insurance companies have the ability to add coverage or change policy wording. Some agencies will create policy provisions that are different from competitors which benefit the client. Unfortunately, many agents will defer to the "boilerplate" policy that the insurance carrier provided, or they will change the policy to be stricter on the client. References are the key. Talk to other insureds that have been with the agent/company for some time and see if claims are handled to their satisfaction. It would help if you also had the agent from each company do a side-by-side comparison of other policies you are looking at. Each can say they have the same coverage, but one generally has more endorsements to the policy that make the coverage better for you. Also, look at policy limits, deductibles, and costs in your review. The policy language dictates how claims will be paid or denied, so the broader the coverage and wording upfront, the better the claims payments will be.
Key questions to ask:
Can you review the policy with us in-depth, showing advantages/disadvantages to us over other policies?
Name some changes to the policy you have made to benefit your customers?
Do you have some references we can contact who have benefitted from those changes?
How long have you been selling this policy with this company?
What important exclusions are in your policy that might cause us loss?
What are the total premiums for this coverage?
What limits and deductibles apply to this coverage?
Don't hesitate to ask these and any other questions that come to mind when you are shopping insurance policies for your financial institution. Unitas Financial Services' agents are happy to provide a neutral second opinion, even if you're not shopping with us. Feel free to get in touch. We're glad to help!
And watch for our next article in the series on evaluating the service and administration of prospective portfolio protection insurance companies.