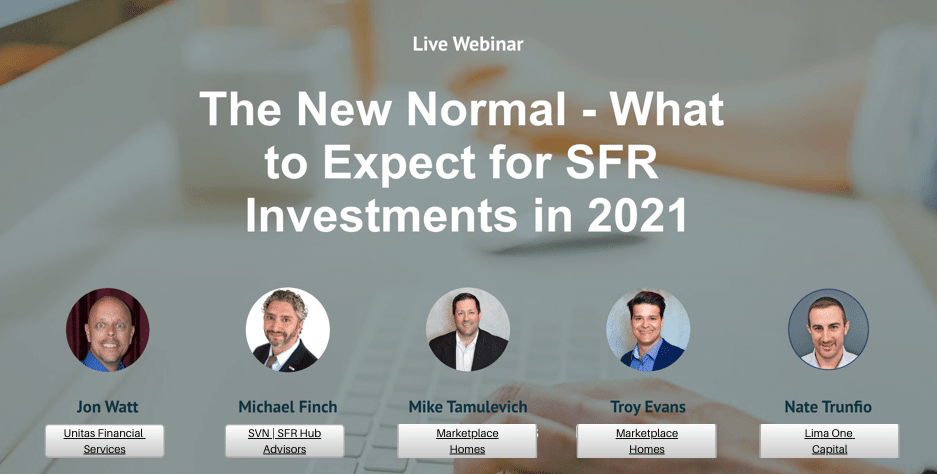 Leading professionals from Marketplace Homes, SVN | SFR Hub Advisors, Unitas Financial Services (formerly Innovative Risk Solutions), and Lima One Capital speak on the future of SFR investments in 2021.
The following is a transcript from the webinar that took place on December 9th, 2020.
Mike Tamulevich- Marketplace Homes
The thing I love about this broadcast is the fact that everybody has a little bit of a different take on everything, right? We're coming from a lending perspective of insurance and loss mitigation, property management, asset acquisition, and disposition, right? It's a, so it's a good blend of different perspectives. During the broadcast, feel free to drop a line down in the comment section, I'm sure the admin will shoot that over to our chat that we can take a look at. For any reason, if we're not able to get to any questions, we'll be sure to answer them whether in the exchange there or shoot out emails and whatnot. With that being said, I wanted to introduce our first panelist from Lima One Capital Nate Trunfio.
Nate Trufio·01:52
Thank you, Mike. Pleasure to be here and represent the lending side of investing and trying to create some clarity for this new normal. For those that don't know, Lima One Capital is a nationwide private lender where in 46 states total. We're a company founded by Marines, so we're built on strong principles and morals. It also leads all the way through the organization to grittiness just to get deals done, especially with speed and execution. And we're about 150 people strong. We close on anywhere from 250 to 350 loans a month, and we lend in a very proud of a very diverse product suite that we offer, all in the private lending sector. That's going to be on fix and flips, your standard single family bridge loans. New construction is our largest growing product. We have single asset rental loans and then also large portfolio rental loans, and last but not least, we finance multifamily bridge, both stabilize and value add deals. As you can see, we cover it all, all across the nation and, really excited to provide a value here to all investors of all shapes and sizes.
Mike Tamulevich: 02:58
Awesome. Thanks. Thanks for joining us. From Innovative Risk Solutions, John watt.
John Watt: 03:04
Good afternoon. At [Unitas Financial formerly] Innovative Risk, we specialize insurance for investors, lenders, in the vacant rehab, build to rent, and rental schedules all over the country. We're active in all 50 States. We've been working with real estate investors since 1993 in the early phases. We've seen all kinds of different market conditions and we have programs to react with a lot of those. Where we differ from some of the other folks that might be in the marketplace is that we have our own direct facilities and we also work with all of the major firms so that we can offer the best available coverage at the best available price. We'd like to also work with clients as a trusted advisor rather than just a salesperson. And, and again, that's what we hope to demonstrate today that we can bring value to that relationship rather than just a place you'd go to buy your insurance and thanks so much for your time.
Mike Tamulevich: 04:15
Great. Thanks John. From Marketplace Homes, Troy Evans.
Troy Evans: 04:19
It's like a Mike here at Marketplace. He touched on this a little bit. We are a nationwide property management company, where we manage over 4,200 properties across 39 States, and then that's anywhere from after they acquire the property, whether it's through SFR hub, doing some turn work, initial rehab work, getting at least an ongoing management of these single family rentals. Also some build for rent since we are entrenched in the new construction space, with this while that doesn't seem to be anything exceptional, managing the homes like that. The way that we're set up is to provide the institutions or the individuals with a one-stop solution, including team members so there's no more learning who the local guy is, what's their process, who is it, whoever reached out to we give them a one person, whether they're in one state, five states, however, they're diversified a team of people that they can work with on their side, customized solutions. While doing that, typically lower than the competition and trying to keep everything solid and together. I'm also very excited to be here.
Mike Tamulevich: 05:31
Awesome. And from SVN and SFR Hub Advisors, Michael Finch.
Michael Finch: 05:37
Thank you, Mike, and everybody else, appreciate being here. Michael Finch here SVN and SFRhub Advisors. We wear a lot of hats here under the SFRHub umbrella. As of our hub advisors is our commercial brokerage, which as far as I know is the only commercial brokerage that's a hundred percent focused on the single family investment asset class, whether it's existing portfolios or new construction built for rent homes. We also have a SFRhub.com. That is our technology platform, which is really a data evaluation and digital transaction site. We do a lot of consulting there, with third parties, whether it's on new development deals and the build for unspaced and helping developers and builders understand how to reverse engineer from a cash flow standpoint, same with the buy-side. We are also aligned with an investment banking firm out of Manhattan. We've helped source some equity from small and local developers. Usually the publix tell me that but, in the bill front space, we've been successful in that. Then, we're also a part of the SVN capital fund, the SVN for our capital fund one. We're acquiring build for rent communities around the country as well, in a partnership with SVN corporate. So a lot of different hats, but, there isn't anything that we can't help with, depending on what the investor's wants or needs are, whether it's working with our brokerage or making the right introductions to groups that are on this panel here. So, look forward to the discussion.
Mike Tamulevich: 07:10
Fantastic.Thank you, Michael. And thank you guys for that introduction. My comment, I give the first question to you. Post COVID-19, I know you guys are obviously really involved, as you stated, in the build for rent, side of the business. What are some of the advantages that not only the consumer, but the builder and the investor at the end of the day can see by going through build for rent right now?
Michael Finch: 07:41
Well, I think the advantages are, I mean, they're unparalleled to anything else I've seen in commercial real estate. I am an old multi-family guy, and, I've worked in and under roof here we've got developers and contractors and everything that's been done under the sun in commercial real estate. And, yeah, it's just unparalleled to anything else. I mean, the builds for rent, the stability, the risk mitigation, the stickiness of the tenants, the quality of the tenants, the ability to professionally manage a whole community, the tenure of the tenants, the cashflow, I mean, it just goes on and on and on. There's tremendous amounts of benefits for an investor, for a builder, and developer. There's increased production, speed to market, activity, that you can see from the street, especially in master-planned communities where, maybe the first pod, it was coinciding with some of the for sale products. Now driver buys are seeing that activity, they can build homes faster because the investor can buy them faster. And, from a consumer's perspective, I don't think it, they're not going to see probably advantages or disadvantages outside of the fact that they see quality maintained communities in their community. Where a lot of single family homeowners don't like the multi-family deals going up in their backyard that whole, not in my backyard thing. The groups that are renting single family homes are affluent, they're active in the community, but they're also in a self-contained community that looks no different if not better than a for sale product, because it's professionally managed. So they're part of the community. I think that's from a consumer's perspective and a municipality perspective as these continue to grow, you're going to see a lot more support for them, I think, than you would, the typical, density three, four story deals that are, obviously somewhat urban, suburban, complexes as well.
Mike Tamulevich: 10:01
Right right. It was just a quick followup to that. Are you seeing a large uptick in like the entire development being single family rentals, opposed to, I mean, it's been something that's been talked about for, three, four or five years, as far as taking that entire development, building it out for single family rental? Obviously we know, we all know a handful of operators that are doing that, but it seems like, I know I've taken some calls from some smaller multi-family groups that are just looking for exposure. Right. And it seems like that would be a perfect asset for somebody along those lines. or are you starting to see more of that?
Michael Finch: 10:40
Yeah. I mean, we've been a hundred percent. The answer is yes. And, for we've been in the space and really educated in the space since 2016, cause we come from a development building background. So, it was, we've been consulting a lot with builders on how to do build for rent cause it's different than for sale. Same on the buyers side, a lot of the buyers just didn't know how to even go about it. From acquiring them to leasing them up, to buying a lease up to stabilizing or whatever that may be. But, yeah, it's becoming more and more necessary to control the whole community, because the agency financing is there on the backend, if you only buy 20 homes in a 200 home subdivision, you can't get that multifamily debt that's now available. If you can pull a little community, you're not, you're playing in that wherever the rates are 2.85% today on 30 years, non-recourse, on 10 year term, I mean, that's as good as it gets. Again, it just makes it easier to manage the whole community as one and keep it well maintained. The renters are not mixed in with homeowners. And there was none of that I'm living next door to a renter or the renter feels less because they're next to a for sale owner that doesn't appreciate them because they think it is ruining their property value or whatever. Yeah, the whole community has just taken off that's going to be the new wave and for multi-family guys, it's the best opportunity for them, because if they own multi-family deals in town, they know when their tenants are leaving and if the tenant likes them as a landlord, wellnow they have a townhome or a single family home that they can step them up to. It's about controlling the life cycle of a tenant as well.
Mike Tamulevich: 12:31
Absolutely. That's fantastic. I appreciate the color on that. You know Troy in, obviously this year, there's been, I'm sure, not only in property management, but in real estate in general, there's been a lot of things that people have had to amend and just shift how they do business. Within property management specifically, what changes have you seen and I think a really big theme that people want to know is, do you foresee that carrying forward into 2021 and beyond the COVID-19?
Troy Evans: 13:10
Yeah, I think that there's definitely going to be some transition into 2021 and onward where things are going to just become normal. And every industry is seeing those. Right? You have your Walmarts and Amazons who are always gonna kind of outbeat those small mom and pop shops unfortunately, just due to the fact that they are able to go with the change and that's kind of what I've been seeing lately with the property management side. You see that as the beginning of COVID-19, let's take showings for an example, I'm on properties, talking to some local property management groups, they were unable to go and show homes because it was quite frankly, against the law at the time, to be that close in proximity with somebody the same thing with the, for sale market, you couldn't go into a property for quite a bit of time. In the way that we've kind of come about this before is, and this was several years ago, was virtual showing in virtual tours for tenants. We had our own product that we had built out maybe five years ago. You've seen other groups like Rently, Tenant Turner, who we actually use now, providing that solution to folks. Before it was seen and seen as a risky choice, even though we didn't run into any issues with it, a lot of people were hesitant to go that route and fear that, Oh, nobody's going to be physically opening the door for somebody. Whereas now that's been an increasing piece of showing property for several property management companies, whether they're local or not, utilizing this technology to provide a let's call it contact list, because it seems about everybody's going with now a contact list solution to renting a home, back to that analogy of Walmart and Amazon, they're now all saying contactless delivery. It's the exact same delivery that they've been doing for the past two years, but it's something that people are really starting to look for. We've seen an increase of tenants really driving towards that type of product. I think that in and of itself is going to start to be normal, a virtual way of seeing homes. You can work on a tenant's schedule, not everybody works nine to five anymore. It's not the reality of it and having someone only available to do that, doesn't work either see showing traffic peak up days on market go down, and there's ways to mitigate some of that risk on a showing side. So I think the technology from that perspective is definitely going to stay. Another thing that I think may stay may not, I'm not sure how economically this is going to affect potential renters, COVID-19 anyway, over the next few years, but rental concessions have also become an increasing tool that's utilized by individual investors and institutions alike. I was reading an article from Zillow. Maybe in September they had some really cool data on it where the year before, in July, there were approximately 12% of the rental listings on Zillow had some rental concession. Those are typically, a move-in incentive gift card, whatever you want it to be. Whereas in July of this year, there was approximately 30.8% of the rentals on Zillow had a concession that was typically free rent, free second months, rent free first month's rent, whether that'd be pro-rated, that's something else that I've been seeing in order to get people interested in moving in, reducing their move-in costs upfront, whether that's going to stay or not, I can't say, but it seems to be that right now they're utilizing that as a tool to get a good tenant and really try to compete there, like an incentive that builders would have for people to go with their home. It's what I'm starting to see on the property management side, I'm anxious to see how that ends up working out through next year.
Mike Tamulevich: 17:34
Yeah definitely. I mean, you can definitely see a competitive marketplace out there for now, trying to attract those highest credit tenants at the end of the day. Perfect sense.
Michael Finch: 17:48
I think Troy made a really interesting point regarding what Marketplace Homes is doing from the tech side and really how, groups such as yourselves are leading the industry in those virtual showings and, not having to have somebody there to walk you through the home. I think the SFR industry, and in groups such as yourself are advancing property management. I think multifamily has a lot of catching up to do with what a group such as yourselves are doing. That will be adopted into the multi-family space probably in a few years and probably already out now.
Troy Evans: 18:27
It's amazing how people's feelings towards that have changed even from an accidental landlord perspective. It's a world where you can, I mean, you can get mortgages and get qualified right online. You can get a pre-qualification letter. Big institutional buyers like Opendoor and OfferPad are doing that with the homes that they own and Self showings. It's just the way the world is going. The shift of that has been very interesting to see. It's been honestly, one of the biggest pluses of this past year scenario that we had that was already established, and there was no straining period there, but I think you do make a good point how these bigger multifamily communities are gonna relate to this. It would be interesting whether it's just a one unit, that they have already set up and for a showing that you don't have to go to the sales office to talk to somebody and let you in. I'm excited to see how this ends up taking shape and all facets of this industry and others.
Michael Finch: 19:32
No, I agree.
Mike Tamulevich: 17:34
Absolutely. So Nate, on the lending side, pre COVID post COVID, reviews some of the strategies or underwriting processes that are in place, not only for the single family rental side, but also maybe specifically to the build for rent and other classes that are out there.
Nate Trunfio: 19:56
Yeah absolutely. Suffice to say everybody's underwriting differently, whether they're operators, or lenders. We've seen a lot, just to really quickly speak on what we've seen on the operators side, especially coming right out of COVID is everybody was being conservative and looking at, in evaluate situation reduced and after repair values, anywhere discounted from 5to 15% I think with what we've seen in the increase in, home prices, as well as, the demand out there, a lot of people have probably gotten a little more liberal in that lately, but, nonetheless still a lot of people being conservative with the uncertainty that's out there in the market. The other thing that we've seen is people just penciling out two things, one longer hold times, especially value add, whether you look at supply chain or lack of mobility of a workforce, slowing down construction projects, people are penciling out longer whole times. Then, just to wear down the pencil a little bit they're also looking at multiple exit strategies and multiple strategies, for better or for worse, arguably, let the market ride itself out and, further identify, if it should be fixed to flip or fixed to hold, and so on, so forth. So, pretty unique to see that, we on the lending side love to see a specific targeted exit. I think there's a lot to say about the diligence in targeting that, but, with the uncertainty, it makes complete sense on the lending side, things have gotten really tight after COVID and it was interesting, ran a presentation in the large mastermind yesterday. We posed the question of, do you think the lending and the private lending side has gotten either tighter the same, or, loosen up since COVID, of shortcut the long wideness and get to the answer of we're actually pretty much back to where were at pre COVID in most regards. So what you saw, throughout COVID was a reduction in loan to cost requiring more skin in the game from the borrower reduction in your loan to values or loan to after repair values, just to be conservative with the uncertainty in where home prices were going to go, lenders required a reserve, so a borrowers having to prepay their interest to avoid the risk of, the inability to pay, among just tightening of a lot of nuance guidelines. We're pretty much back to where we were, pre COVID. There's a couple exceptions to that rule, but for the most part, all things single family are back there. What I can say specifically, Lima One, we're super bullish on new construction. There's a built for sale, on scattered and fill or, build for rent in smaller, medium, large size subdivisions. That's our highest demand product growing in our wallet share right now and in our pipeline. I think what's changed the most in regards to underwriting on the lending side is the multi-family sector. So, outside of the terms being a little bit tighter than they weren't pre COVID, underwriting is less aggressive than the rent assumptions and rent growth specifically pre COVID is very commonly used 3% year over year. Typically it's 2to 3% then year one and two, and then dwindling down to a bigger focus on collections, to Troy's point. And we see a ton of concessions. If somebody is leasing up a property and looking to sell it on the seller side, the lenders are taking that into account and what's actually being collected and in place. Just overall more conservative in the market rent assumptions and capris seem to remain pretty flat. I'll be in the CRE multi-side just less transactions. It's harder to get the true pulse of what's really going on in the appetite of buyers and sellers. There's a lot of dichotomy between where buyers think pricing should be and where sellers think pricing should be. We in the lending side have to underwrite specularly accordingly and be conservative, but again, single family, we're back to where we were at pricing and leverage points and guidelines from pre COVID, new construction. We're more bullish on it. Multi is the one that's still catching up to where we were pre COVID.
Mike Tamulevich: 24:16
Gotcha. A quick follow-up question on that. I know Troy did make that great point about the concessions that you're seeing and what not. I'm interested to know from a lender's perspective, let's just say you're filling a home. It's, it's 1,500 bucks a month and you're giving out a thousand dollar rent concession for that first month that they're moving in, let's make the math easy and say it's a $1,200 concession on that first month. Does the lender allocate that across the life of the lease or do they look at that as like an isolated issue with moving somebody into the property?
Nate Trunfio: 24:50
Yeah. Great, great question. And, just specifically Lima One we're a bridge lender, so we're able to see and underwrite through and use some common sense to that. You could say that we will look at the bigger picture and not really discount proforma or NOI as a result of it. We do know that the market bodes for a lot more concessions to get the right tenant quality in properties, on more of the permanent financing side in the multifamily realm, it just really depends on where the rest of collections and occupancy is. They just want to make sense out of it. As well as how many concessions there are across a community or an asset, because if they see a very large wave of it, they're going to discount if it's just a couple on a normal lease up, or unit turns, certainly that's taken into account for not much of a discount. So it just depends like if the seller is the seller really given away a lot to put tenants in there just to show higher rents to therefore sell at a higher price because it'll drive higher NOI, or is it just the common terms and lease ups, that you would expect, depending on where the product's coming from. So hope that answers the question.
Mike Tamulevich: 26:06
It does. It does. Yeah. That's a great, that's a great perspective. I've always been interested to know that. John, on the insurance front, especially when you're talking about, maybe retail investors or somebody who's newer, they can't put the investor head on when it comes to insurance, right? They think all they have to do is keep their homeowner's policy in place. Right? But, but specifically within SFR, talk a little bit about, that fact, the type of coverage that you want to have in place, but also how rates might differ by location. If you're talking to somebody that's got 30 properties that are scattered across, they're scattered across the country, why are those rates different? Are they different during the home being filled with the tenant as compared to when it's vacant and being leased, or potentially being turned?
John Watt: 27:03
Well, with respect to insurance programs, the ones that are going to fit in and that are going to perform for a real estate investor, whether they've got five properties or whether they've got 50,000, we need to identify what the coverage needs are. If And, we've, on the early stages, if we've got a title in an LLC or a corporation, some carriers won't tolerate that if they, if it's in a rehab status, some carriers won't tolerate that so you need a program that's gonna perform, as far as having the right fit there and the unfortunate part about that is you're not gonna know, whether that program is going to perform, unfortunately until, you have a claim and then you'll have a denial too, which is always a disastrous situation. With respect to location and race, we see higher rates in areas that are prone to windstorms. So, you think of Southeast Florida, but it's the entire Gulf coast, it's the Southeast coast. It's of course the wind and hail exposed area, which runs all the way. Pretty much just to the East, to California, all the way through to the east coast where we're seeing now percentage deductibles and so forth. With respect to vacant or occupied properties, there's a little bit of difference there without getting too technical on this, on the vacant side, there is an increase in incidents of vandalism on properties that are not being actively worked or managed. On the rented side, on the occupied side, typically we'll see best rates there for best practices. That gets over into Troy's areas on the property management that best practices are always going to generate the best rate. That's whether they're vacant, they're occupied, no matter what the location is, it's, we can fit together deductible choices that make sense with what the premium is that's being charged. And then if, we see it, we're seeing an increase across the country in liability claims. Typically those are tiny little maintenance issues that then open the door, especially if you're talking about a multifamily, somebody slips and falls because of a broken stair rail or something like that. They get $10,000 out of that, then typically see speaking, we'll see quite a few more $10,000 claims that come out of that. Not quite it just seems to work that way becomes a loss culture rather than something that is only dealing with some type of catastrophe. Again, I can't overemphasize best practices with respect to repair maintenance, just tenant selection, everything else is the ones where you get the lowest possible rates with the best possible coverage. Did we hit the mark there?
Mike Tamulevich: 30:33
Gotcha. Yep. That's that's right on point. Thank you. Thank you. Michael, I was watching, I don't know how old the piece was, but I think it was in the last 30 days and definitely lasts 30 to 60 days. It was a Fox business piece that was showing a survey and some research both from John Burns and also from Invitation Homes, talking about the changing demographic, right. They, I think it specifically isolated Chicago and that it showed that single family rents were up a little over 3%. It was like 3.1% while downtown Chicago apartments live in rents were down like 23%, like talking about the shift that everybody's been talking about, this entire year, as far as people migrating, potentially out of the more urban city centers out to where you might be into a single family home. Talk about that a little bit. That's an interesting thesis right now.
Michael Finch: 31:44
It's, and I just read something yesterday, San Francisco's rents are down 35%, and, those density of buildings, but, I mean, I think the shift was occurring and it has been for a very long time, just at a much slower rate. And then COVID simply accelerated it. People are, and that's really, for two reasons, one multifamily developers, post recession have primarily built about 75%, one bedroom units and the remainder are studios and twos, and maybe some of them through some threes in there. So, if you're moving in with a girlfriend and you're getting a dog or you're starting a family, or you're an empty-nester, then you're downsizing, could your kids out of college, there's so many generational shifts all coalescing at once. If you want a yard and you want some more space, you have to move, you gotta get out of the inner ring and you gotta get to, ring one or two. You can still be close to those downtown areas, but, COVID simply accelerated what was already naturally occurring, from my perspective.
Mike Tamulevich: 33:03
Gotcha. Gotcha. Yeah, that makes a lot of sense. You have the, it was definitely in the winds before we are a hundred percent, right. You have, COVID just poured gas on it at the end of the day. Right. Just to make it, just make it move a little faster. Nate, how have you seen the investors that you're working with, how have you seen them change any kind of their strategy considering, taking into account the current market conditions?
Nate Trunfio: 33:31
Yeah, absolutely. So we definitely saw a lot. I'll try and keep it streamlined relevant to what we've just referenced here too. I can tell you that, investors of all shapes and sizes are absolutely doubling and tripling down on single family rentals. I mean, single family rental occupancy is at an all time high at 97%, I believe is the case. I was fortunate enough to be in a John Burns presentation yesterday. I got some fresh data from him, to where, just to talk on that last point, single family rental increase year over year is about 3.8% in apartments is down 1.1%, on the year compared to last year was a high threes and single family and low fours in multi-family. So, you're seeing a lot of change and strategies tied to the trend of, doubling down into single family realms. I said earlier, a lot of investors are having multiple exit strategies as they buy properties. You're also seeing a huge rush into new construction, especially scattered infill. Whether it's because of, the continued, difficulty in finding the right inventory, or the continued, overage and cost overruns related to rehabbing older products, versus, the average cost overrun on a new build for a good builder is, 1%. You're seeing a lot of people, go that route. Lastly, the affordable sector is getting a bigger focus. I think a lot of times when we think of affordable, though, we think of a tertiary markets with three digit rental numbers. Realistically, average rents and affordable space is certainly higher than that. Focus on the workforce housing and affordable sectors is big. Just overall another last observation and, this ties to the most recent, what it was a U of a VW and in the K curve, there just continues to be a separation of wealth gap. We see that traumatically in the investing space. Although that's not strategy related, what I mean by this is that your top tier more experienced, heavier volume investors are only getting stronger and thriving and the newer investors that, done just a handful of deals, they're having the hard time finding inventory because it's so tight. We're just seeing less traction in from the lending side loan volume, from there. You can piece a hodgepodge together, a lot of unique trends, and then on the operators side, certainly a lot of different tactics. Marketing has changed significantly on that realm, quick one to drop is most people are thrown a direct mail in the trash for now a lot of mail from the election, among, some other reasons so lots of, shifts and trends is where trying to all get used to this new norm, but it was referenced earlier, all things virtual and digital is really big on all fronts to.
Mike Tamulevich: 36:36
Gotcha. As a follow-up to the current market conditions. Yeah, I'd love any of you guys to chime in on this. It was always kind of the common thought that you could, if you're going to sell your single family rental, that a 10% discount was kind of priced into it, especially if you were doing bulk deals, maybe not all across the country, but that was somewhat of a rule of thumb that people would go by. And because of the retraction of available properties on the market, and obviously a large influx of capital looking to purchase that has narrowed down to where, especially if you have a performing portfolio, I mean your pretty much at par, if not more right, to be able to trade them to the, some of these assets. On the other hand, you have, I saw some data from CoreLogic that the 120 day delinquency on mortgages was at a, was up 10 X from, I think, July of 2019, going from like 12 basis points up to 120 basis points. Those are two very very drastically different things. Would love somebody's perspective on just kind of what the market looks like, what assets are actually trading at compared to their retail value, if somebody was going to be buying it for an owner occupant.
Nate Trunfio: 38:07
If I can chime in real quick, Mike, on, piggybacking into the last question you asked me as well, along with this, on, where are essentially rentals being sold at a specifically turnkey, the whole fix and flippers, bur models, really in the last couple of years, the newest strategy is, fixed to sell turnkey. So investors buy a distressed property, renovates. It puts a tenant in there. And the reason why this has been a bigger trend is it's, they're able to sell those assets at sometimes the peak, pricing range of the market or higher than market because they're able to sell it off of performing numbers and a cap rate versus the normal single family sale, being all sales comp based approach. You can support a higher disposition price when you're selling turnkey, because you can sell it with the income cash flow perspective of it. I didn't want to just throw that out there that the whole turnkey operator model is, has been a huge trend over the last couple of years with, top tier investors shifting among wholesaling and fix and flip, fixed to rent, and now fixed to sell turnkey, and a lot of them retaining property management or getting with you guys on that end.
Michael Finch: 39:20
And, I agree with everything Nate just said. From an investment standpoint, the buyers are, the old model was always discount to retail, next, because this whole industry burns out of the recession. We've been talking for years that, every year there's more institutional capital coming into this space because it's now finally being recognized as a true investment asset class, even though it has been for 50 years, the commercial world hasn't recognized it as that. They're coming in and they're recognizing that, Hey, we can pay a seven, five cap on a portfolio of 20 homes that were built in 2005, because they're good quality construction. They've got long-term sticky tenants. Some will even, the bigger boys I'm starting to see, get pretty aggressive in paying, even less because their model is to hold them anyways. They're not trying to, just hit an IRR in three years and turn it, they're going to hit those home price appreciation values over 5, 10, 15, 20 years. That's the same thing a small investor can do. You don't have to be institutional to play that game. That's, what's, that's, what's beautiful about the SFR space. If you can afford six or seven homes and you can buy them in a good growth market and in a good location, they don't have to be A class or B class homes. They can still be C class homes. That's going to be a little more work obviously, but, and you're going to get a better return for that work. But the values over time in good markets, always go up. I mean, even if there's a recession values go down, but over a 20, 15, 20, 30 year period, the trajectory has always been up, whether there's this, but it keeps going. So, the SFR world has shown historically that it's stable, steady doesn't hit the highs that healthcare multifamily do. It doesn't suffer any of the lows and historically it hasn't. It's a great opportunity to say, all right, where else can I get a plus minus a 6% yield on a quality, net yield on a quality asset, and, continue to maintain, growth throughout it's. So we're seeing a lot of, in primary markets, sub six caps, secondary markets, a little North of a six cap tertiary market, you can start, maybe getting close to seven. Obviously if you go from A class to D class you're gonna, you're going to be at a higher cap rate. You, you should be, eight nines and tens. If you're down at that bottom rung, cause you're going to be dealing with more turnover, more maintenance, more work and you deserve to be paid for that. But, I think the returns are still stronger in SFR than any other asset class that I've seen.
John Watt:42:34
To add on to what you and Nate were just Talking about. Those strategies will also lead to the best loss mitigation and ultimately the best prices in our market as well. Those, just following up on that is, that's the kind of practices that we can get to underwriters, and get absolutely the best value for the buyer for those.
Michael Finch: 42:55
That's a great point. I will add, I was really talking more about, individual scatter home portfolios. There or single family investment on the bill for on side. We're continuing to see compression in cap rates, and I believe we will, to the point where in five years it will probably be on par with multifamily. Just there isn't enough of it. There aren't enough trades, the groups that are doing it today are, if they're building on their own accord, they're holding, so we're not seeing those transactions, or the groups, such as the SVN fund, our other funds that are acquiring and aggregating pretty quickly. Those bulk dispositions aren't going to happen for three or four years still. And it takes a small VFR to get done and I'm small. I mean, 75 homes, that can be built and leased in seven months. But if you're a 200 home subdivision, you're still, 18 months, from finish, starting vertical construction, not even counting the entitlements and land development and everything that goes on before that. So, it just takes, it's going to take more time. I think that market will prove to be very comparable in a few years to multi-family, cap rates. And, I think really in five years, once it's proven there's a strong argument that they might even be less than multi-family because the stickiness and quality of the tenants will be proven. It's just, it just takes time to get there. But, there's so much capital coming into the space and there's so many of those developments starting to occur now. It's going to be fun to really watch it evolve.
Troy Evans: 44:43
It's cool to see at least from what I've been seeing in Mike, where you can speak a lot more to the institutional client than I certainly can. The individual smaller homeowners who have become investors just out of necessity from a, we've seen, back in 2008, our program really kind of started by a guaranteed rent solution that we had for those who are underwater on their mortgage. Now, four years or two years ago, when you talked to them about potentially selling their home to get a little bit of cash out of it, they would be more than willing to take a discount to just get rid of it. They weren't in the market to be an investor. Now you talk to them and they know that they can get at, or above value, even if it is rented. So these conversations have turned, less from a, how can I just get this off my plate to more of a, how can I grow this now because I have been seeing success with it. My property's value is going up, my mortgage has been staying the same, roughly, besides an uptake in some property taxes, how do I go into this? Now more individuals, contacting us saying, well, how can I build a new home, in Nashville, Knoxville, Fort Lauderdale, like right by John, somewhere where they're starting to seize this trend and they don't even have these conversations on a daily basis like we do. So seeing it, seeing the amount of individuals that I'm talking to, wanting to put some capital in these markets and adding in the institutional folks who are looking at this avenue has been very interesting to see them all align their interest across the board and not even think of it as a more risky and or secondary solution, but could potentially be a big chunk of their personal portfolio as well.
Michael Finch:46:45
Yeah. Yeah. I, I think, the self-contained build front communities have, especially from an institutional standpoint, a very distinct advantage, for that capital, but for the smaller investors that the scattered home build for rent that, Nate was mentioning earlier that they're doing a lot of loans on, I mean, those are significant opportunities for the buyer that, does have, 60,000 to put down or, to get a, a good $250,000 home, or $225,000 home. That can be a good long term rental. Back to my original point, if your plan is, that's not a buy, stabilize and then sell it at a cap rate. I mean, you probably could, but if you really want to maximize your wealth growth, that's a long term hold strategy, get one done, in a year. Then, see if you can get another one done, in another year and just keep growing that way. If you can build, you can find blocks to work on whether it's Atlanta or Phoenix, or, a lot of the markets where Southwest Florida, where we see a lot of scattered lots still, that's a huge opportunity. And, and you're going to limit your limit, all of your challenges from a, a PM and repair and maintenance and cap ex standpoint, because you shouldn't have any big issues for five, six, seven years, unless the tenant just clearly beats the crap out of the house, but the odds of that are not likely because you're gonna have a good quality tenant that you're going to screen and they're to be there because they've got kids And jobs. And, they also have a pride of ownership in these new homes, almost as if they own it. So yeah. It just kind of all rolls together well.
Mike Tamulevich: 48:41
Right, absolutely. So, Troy, what are you, when you're talking to somebody who might be a newer investor, within this industry, what are some of the common things that potentially they overlook when assessing the situation?
Troy Evans: 48:59
I, I think for somebody, and you see this a lot more with existing properties, right. More or less, because that's where they're going for their first, second or third acquisition, you see an almost uneven interest alignment that they have with the property than they do with the tenant. By that, I mean, there's, no, there's not as much empathy there because it's not as emotional of a transaction, nor do they have the ability to think about how they can take maybe a loss of upfront in order to maintain the property. I think that long-term a great paying tenant is the best asset that you can have in these properties, without giving the store away. Right. Just referring back to the first question, you're starting to see people competing for these quality tenants, and you're starting to see that happen more on an institutional level, or maybe your smaller, private equity firms, giving these concessions to get people in where you're seeing that the newer investors lose is the unwillingness to compromise and be flexible on those sorts of numbers. I, they may argue over the $50 rent negotiation that this tenant's doing, but in the long run, they're home sitting vacant, they get on the market longer, losing them more money down the line, the returns going down significantly than if they maybe gave a half month concession, or a $50 decrease in rent, and at the beginning of COVID, we saw this come out of some individuals, with regards to tenants, not paying rent on time or being behind. There was a little bit of a concern with our owners, really wanting to just push towards an eviction. I think the benefit of us looking at it from a third party perspective is to say, okay, is this an isolated event? You know, have they lost their job? What's the situation. Luckily the care act for some of these tenants have created a buffer, for them, between them and the homeowners, where we were able to settle the situation via that route. They're losing track of the long term play, versus just what's right in front of them now. I've seen that going down a lot as COVID is starting to affect everybody in some way, whether it's, you can't go to your favorite restaurant, or you've lost your job, and people are starting to be more empathetic to that fact. And, and I don't know if it's just a lack of operating income that they don't make these concessions or changes, or they make these, concerns, maybe harder than they should be, and fear the unknown, but that's been something that I've been seeing a big difference between the larger groups and experienced investors and the newcomers into this market.
Mike Tamulevich: 52:07
That's a great point. Especially at the beginning, they're talking about underwriting and not only the property, but also the tenant, right. Something Nate had talked about, it goes as far as the influx of the buy rehab and, sell off to an investor, right? You want to make sure you're doing your due diligence on that tenant as well, which can be more tricky at the end of the day when it's being controlled by the person who owns it. So great point. You know John, a lot of people talk on the insurance side about different things you can have in place to protect yourself financially, specifically to COVID-19. Is there anything out there if your tenant gets COVID-19 and can't pay rent, whatever the case might be. Is there anything that covers them?
John Watt: 53:00
Unfortunately, there really isn't. That's something that the insurance programs have all been designed to protect on direct physical laws. Unfortunately, that's not something insurance is going to respond to.I don't even know if there's a best practices on that or whether that's that I think that redirects over to our elected officials and whether they're able to assist in some way. We've given a lot of assistance to our existing clients with respect to the length of time that they have to pay and extending terms. Just like everybody else has done. And that's about all we can do in this market.
Mike Tamulevich: 53:54
Yeah. That's, that's great knowledge for people to have. Michael, I was interested to ask you when you're looking at some of this entire build-out, communities of built to rent and SFR do the developer/ owner. Are they, are they putting those all under one tax ID for the entire development, or are they dividing that up individually to the property for a disposition down the road potentially to give you more optionality?
Michael Finch: 54:33
Well, there and it's, which is good because, the last IMN Conference that just ended, there was a lot of discussion on this. It seems like the SFR role is starting to understand the bifurcation of what those products are because they're different. What's happened here in Phoenix, in the last 8 years which is the dawn of the horizontal apartment complexes that almost everyone in Phoenix called Build for rent. Almost everywhere else in the country, everyone calls build for rent, homes built on single Tax ID parcels. So whether they're attached or detached, it's 150 individually plated homes and they both have their own niche and they're entirely different product types because if you're building on one parcel of land you really you're maximizing the density. In some cases I've seen groups downsize the zoning, from higher density to lower because you can't build 400 units on sometimes on those parcels, unless you go up, but they can build 175 and get 12 to 14 units an acre or something like that. That's still an apartment. If you build, detach 600 foot, one bedrooms and two bedrooms and, at 800 square foot and a thousand square foot, three bedrooms, then they're all detached on one parcel, that's still an apartment complex, so they've been able this whole time to get all the Freddie and Fannie, agency debt. They're getting very high rent per square foot because they're the same as an apartment deal. It did confuse the market a little bit I think, because they were also being called build for rent, as opposed to, fee simple homes, which are typically 1500, 1800, 2000 square feet. It's a different tenant, you're not going to have a family move into an, 800 square foot, two bed unit, like you will have a four bedroom, 1800 square foot unit. It really just depends on the developer and the builder. Obviously the zoning and entitlements that are in place. So they both work. They both work exceptionally well. It just, it's just a different demographic. I personally think that in the long term, the traditional fee simple platted build for rents will hold, they'll still be there in 30, 40 years. Because some of those horizontal apartment complexes could be rezoned in 20 years to be denser as growth occurs. I think they'll serve more redevelopment opportunities, but that's a long way off. And, and they're doing very well today and, it still serves that niche where tenants want to get out of a stack department. They don't, a single guy doesn't need a three or four bedroom house. Moving into a smaller one or two bedroom detached unit is ideal for him. He is still, nearby, shopping, dining and entertainment, and they're following the same economic and growth factors that multifamily do, which is the same thing that the traditional build for rent groups are doing as well. I mean, you gotta have jobs, schools, entertainment, and it's just, it all depends on the tenant and what they're looking for. It's a different tenant demographic entirely, and they're both serving, good niches in the market.
Mike Tamulevich: 30:33
Gotcha. Fantastic. I appreciate that answer, very insightful that's, I mean, it's such a big part of what is out there right now, going on? Great, great feedback to have. All right, guys, we're just a little over an hour, so I'm gonna grab a couple of questions that came in from the queue. The first one that I saw was, I think we touched a few of, you may have touched on this, but name your top technology companies within this space. I know Troy, you had talked about Rently and Tenant Turn, you're from that perspective, but just briefly, any names that people can take a look at, something interesting that people are doing out there.
Troy Evans: 59:22
One, one thing I've played around with, and I haven't gotten much into it from a large-scale perspective, but we tested this out with a few tenants. Was this company called Rent Check? I believe that what I'm saying is GetRentCheck, if you're ever looking for it, and what they do is they allow you depending on scale to customize questions and requirements for tenants who can then drive their own inspection report, on the property, they require, certain photos and things to that nature. Now, I don't think that completely offsets the need for an inspector to go out to a home by any means. I think it also gives you more access to it. Again, I want the same on the other lines, it's Tenant Turner, working on a tenant turner schedule to maybe get a quick look at what's going on. That's been something that I've been playing around with and looking at from an ongoing preventative maintenance standpoint, to get more looks at the property. Like John said, best practices equal the best rate. How can we get as many of those best practices in there? That's been something I've been playing around with.
Michael Finch: 1:00:32
I don't have any, outside of being self-serving and mentioning SFRhub.com as a tech platform, really on the data and valuation side. I mean, I think we're unique in that we are one of the few who prior to running our valuations have built AI into our background and have human capital. That's really scrubbing and doing an asset audit on each individual home, which is why our values tend to be more accurate, prior to running them down the EDM. From a tech standpoint in general, I think Smart Home Technologies, and then the groups that are really going to pioneer the, those types of systems, cleaner air, appliances that can communicate with each other through your phones and, especially now with COVID, I think there's some groups out there that I've talked to that are figuring out a way to just kind of, blast. I can't even explain it properly, but, they're, de-bacteria rinsing the home and, cleaning it from whatever germs people might be afraid of. I don't even sound sophisticated enough to be talking about them. I think there's going to be a ton of smart home technology. That's just going to enhance the health and wellness side of letting in single family homes that people are looking for. That will relate to apartments as well. Probably even be more important, given the density.
John Watt: 1:02:08
And Michael, to back you up and SVN and SFR hub, it's gotta be an investor's first stop. I mean, the job that you guys do for the industry is absolutely amazing, and very much appreciated.
Nate Trunfio: 1:02:25
I'm just, on the lending front, the biggest pain point now is appraisals. And, the practice of social distancing and no one wants a stranger in their home. There's a lot of unique appraisal products coming out. A big wave in the lending side is also, utilizing technology that geo codes, so that people can do self inspections, whether that's on a rehab drawn inspection front, or even a lot of, appraisal products are starting to have the ability to have, either tenants or homeowners, do self inspections and a geo locate so that we know that there's no potential fraud and it is a property that we wanted inspected. On the tech front, in that realm, it's really allowing for access and visibility to the insides of properties, while still checking the boxes that we in the lending side need in regards to inspections.
Michael Finch:1:03:16
Nate, I want to add to that because we're going to be rolling out something, here in 2021, and we're kind of soft putting the pilot together now. SFR hub is aligning itself with another, group where we're going to utilize our underwriting and ASR, report, which is, all the clean and verified data and asset auditing, as well as the valuations, and the income approach, along with some of the other, tools we add on in there, but then, co-aline ourselves with a group that can do physical inspections and physical appraisals. We have an all-in-one package, for lenders, such as yourself, that you don't have to go to multiple parties to do them all, but just get it all done in one. We're, we'll be rolling that out in 2021. I think it's going to be really exciting for the lending industry, because it should make our lives a lot easier and it should make the lives for the buyers a lot easier to just have a one-stop shop, or, they're confident that they're getting good data, good values, and then, the homes being inspected and or appraised, and maybe as the appraisals and our values start lining up more and more lenders can start saying, Hey, we only need to spot check, 20% physical. We'll take, the rest of the AVM values. That's something that we've already done with our lenders in the past, and I've gotten used to our product. Now that the world is moving more that way, I think, and I think legislation is moving that way to under $400,000 a home that will, the investors can start trusting the AVMs, but, the AVMs are only as valuable as the input. So, if you're not cleaning and verifying the data and really scrubbing each asset in a portfolio, whether it's five homes or 5,000, it's hard to get accurate data, but, we've mastered that's more of a pat on the back that our tech guys here that build the AI to create our advanced SFR scrum report. So, exciting things to come and, look forward to getting that product out to you, Nate, and the rest of the lenders in the space.
Mike Tamulevich: 1:05:44
That's awesome. That's, that's great to know. One, I, I think we can squeeze one more in here, questions for you, Michael it's the center and around that shift of, demographics and, from the more city center, urban, high rise, vertical construction to the SFR side. And, and do you see the traditional multifamily owners, that have their performing, portfolios and whatnot do you see them changing any focus of the actual asset that they have that might be in a downtown community, that anything that you're hearing, anything that you're seeing, that those folks are doing to try to combat the spread of, people may be moving more out towards the suburbs?
Michael Finch: 1:06:39:
That's a good question. The answer, the short answer is no, because I, they're just the two different tenants. I don't think they're competing against each other, at all. And, I am of the mind that, we, as a human race are fairly shortsighted in our memories. So, as COVID passes, which it will, in two, three years when it becomes less [mediaized] and talked about all the time and the vaccine is there, I don't think urban centers are going anywhere. I do think the shift was happening before where there are just, we've got a growing population and, when you're younger and you don't have a dog and you don't have a boyfriend or girlfriend, you don't have a family living in density, living is almost necessary. We just haven't been building enough houses, post recession, either. The, there's been plenty of apartments built and there are still plenty more being built. I don't think, I don't think that it's going to hurt the apartment and guys in the long run. If anything, I think the apartment guys just start looking at, building for rent to my point earlier about controlling the life cycle of a tenant, it's going to benefit them to get into the BFR space, because it's just a natural progression. I don't think density living's going anywhere. I think suburban rentals are gonna continue to grow because they have been for, well before COVID. I think they just feed off each other well, as opposed to what one can do to compete against the other.
John Watt:1:08:41
Just a quick word on that. We've seen a number of tenants or a number of operators actually over the last three or four years where the inner city model of their renovations has been actually coming in and doing a complete gut job on the, on a lot of their properties. The property that they're putting out on the market, whether it's in the revitalization area of Brooklyn, or whether it's downtown Philadelphia, or, and we're seeing tremendous progression in what the rates are, the stability of the tenants and so forth. It's a different business model, but we've seen, where the operators, a lot of times in the inner city where we would have thought that those were low section eight rents, whereas these are some much higher rents, and some very nice property.
Nate Trunfio:1:09:32
Yeah I'll lastly, add just to, again, tout, John Burns report a large, polling of single family tenants ranking, the amenities that take most priority and importance to them, to read off the list was number one, laundry, privacy, parking, size, pets, yard. Although that's agnostic to not be specific in, urban versus suburban, you can see what's most important to single family tenants. So, in the urban markets anywhere to additional laundry, make sure there's ample parking. You can't get away from the size factor. Especially as co-living is a new strategy for a lot of operators as well. That just tells you what's priority. Certainly this has changed, through COVID.
Mike Tamulevich: 1:10:20
Well, guys, I really appreciate the time we've had here to run through some of these questions, great perspectives from a lot of different ways of thinking right. Coming at it from whether it's the lending acquisition, insurance, property management, asset management, a lot of really good detail, for a bunch of guys. I certainly respect the heck out of that are in this crazy industry that we'd love most of the time. Right. There's always, there's always those days in those businesses, but certainly appreciate it. If anybody has questions still that are out there, feel free to throw them in the comment section. I'm sure somebody will. We'll be able to get back to you on that, but guys, thanks again. It's been great giving us an opportunity to chat with you and have a great rest of the week.
Michael Finch: 1:11:11
Yeah. I appreciate everybody putting this together. Thank you very much. Great job. Oh, all right guys, take care. Thank you everyone.
If you have questions or comments about the webinar, please reach to John Watt by clicking the button below.
About Unitas Financial Services (UFS) Real Estate Investor Insurance Division
Unitas Financial Services (UFS) offers programs for Real Estate Investors, Landlords, and Property Managers.
Our Real Estate Investor Insurance Program is designed to provide high-quality insurance protection at an affordable cost for portfolios of 10 or more products.
Our Tenant Liability Protection helps you mitigate your risk for a direct, unintended physical loss arising out of an act committed by or at the direction of a covered tenant to the Insured's property.
Our Landlord Insurance Program allows you to rent your properties with confidence. Landlord insurance will protect you financially from damages or injuries related to your rental property.
Our Involuntary Unemployment Mortgage Payment Waiver provides a direct benefit to your borrower by covering their residential mortgage principal and interest payments if the borrower becomes involuntarily unemployed and loses their income.