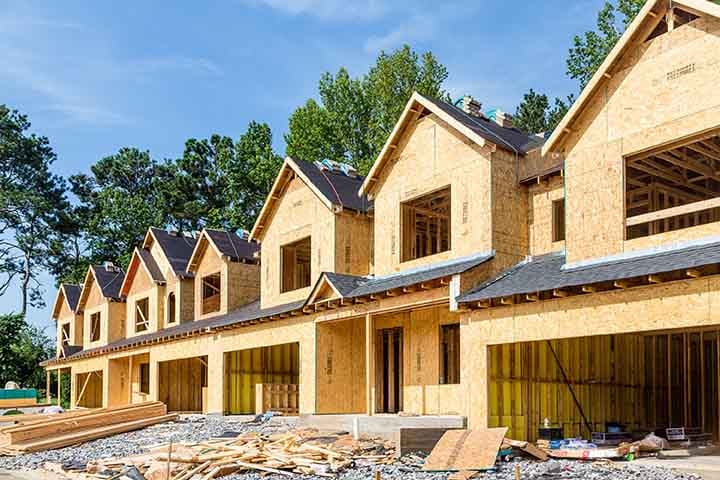 While investment into the build-to-rent property market proves significant despite a global pandemic, more buyers are gravitating towards single-family rental units. The US has shown surprising resilience in the build-to-rent sub-market.
But what exactly are the factors behind the increased demand for purpose-built property, and why could build-to-rent be the hottest thing for single-family real estate investors?
What is build-to-rent property?
Simply put, build-to-rent refers to private residential property built with the purpose of renting out to tenants rather than selling outright. It's an emerging market that's been present in the United States since at least 1980.
As per Property Sector Today, build-to-rent may only take up 2-3% of the marketplace, but from 2016 to the COVID-19 shutdowns in early 2020, it remained the fastest growing sub-market in the rental sector.
While a global pandemic has hit both selling and rental markets hard, the flexible model of single-family rental properties has created unique opportunities for landlords to continue to build wealth.
Why build to rent?
Going back to the build-to-rent model's flexibility, a landlord's return on a property isn't based on an ability to sell, but an ability to lease.
In its breakdown of rental markets over the last decade, RentCafe reported that the number of American renters climbed over 108 million in 2018. That's 34% of the national population.
With the economic impact of COVID-19 surpassing the 2008 recession, the housing market once again faces a population that can't afford to dip into the buyer's market. While this indicates that rental properties may represent the safest property investments, there are caveats to consider.
Student accommodation falls under the build-to-rent property. However, given numerous lockdown orders to evacuate student housing and a shift to online learning in the wake of a global pandemic, many month-to-month lease agreements have been canceled. With students being locked out of classrooms, there's simply no benefit to paying for accommodation in proximity to campuses.
This represents one of the hardest-hit rental markets alongside business rentals, which have been struck by mandatory shutdown orders and losses of revenue throughout the year.
It also better highlights the strengths of single-family rentals.
Whereas student accommodation and multi-family property rely on interchangeable tenants liable to shift according to market effects, single-family units represent stable tenures. This is mainly a result of better-structured leasing agreements with fixed terms, where your revenue comes directly from your renters and not a bursar or benefactor.
So what are the benefits of owning a build-to-rent property?
Build-to-rent properties represent the most stable rental model today, given both the increased demand for single-family units and the evisceration of the seller's market. Not only that, but it remains one of the only sectors actually exhibiting growth. There are currently 13 million single-family rentals in America, with the number projected to grow to 29 million by 2030, as reported by the Urban Institute.
Maintenance costs are also significantly lower on single-family rentals as opposed to multi-family rentals, condos, and student accommodations. In such unprecedented times, property owners should be just as mindful of unexpected expenses as they are of dwindling revenue.
Single-family build-to-rent properties can also be leased with assured shorthold tenancies that run over longer terms. While there is no minimum length for a tenant's term in the US., common agreements still put the rental term between 6-12 months with options to extend and rent increases factored in.
Ultimately, being able to secure rental income for the next year will be key for property owners looking to survive the economic uncertainty of the pandemic. Single-family build-to-rent properties offer a unique opportunity to do just that.
Considerations for people looking to invest in build-to-rent property
If one doesn't currently own a single-family unit ready for rental, there are some key things to consider.
The most important question a potential landowner can ask themselves is if you have the financial means to navigate the three biggest factors in acquiring build-to-rent property:
The down payment and credit standing to buy the property
The capital to renovate or maintain the property to a standard fit for commercial use
The leverage to incur debt on the property
These three factors determine not only an investor's ability to acquire the property but to see a return on their investment through a market still at the mercy of COVID-19's global and regional impact.
On the subject of acquisitions, an investor should have a clear idea of what path they can afford to take. A bank loan is prohibitive to first-time investors who have not spent the time building up an adequate credit standing, but a cash investment represents a higher upfront cost.
For both problems, location will play a big role in the solution.
Proximity to value-driving factors like schools, commute routes, and businesses put a property in much better standing with banks and represent a safer asset on your portfolio. Investopedia lists the 5 factors of a 'good' location as centrality, neighborhood, development, lot location, and the house itself.
Permanent overhead costs should also be taken into consideration. U.S. owners will also have to consider Homeowners Association fees. Property tax, utilities, and maintenance will have to be accounted for, along with variable costs like major repairs, legal fees, and a loss of rental income if the property goes for any amount of time without tenants. The cost of insuring the properties including tenant damage should also be accounted for with a tenant liability policy.
Read our article: How is the Cost of Insurance for Real Estate Investment Portfolios Calculated?
Is a single-family rental right for you and your portfolio?
Single-family rentals have proven to be a resilient investment in a housing market facing its second major collapse in just over a decade. With record-low mortgage rates sustaining a buyer's market in the US, build-to-rent properties represent a great investment for new potential homeowners with a savvy eye for value assessment and cost management. If you are looking to start or expand your real estate investment portfolio an organization dedicated to single-family residential (SFR) & Build-for-Rent (BFR) investment portfolios of five or more homes like SFRHub Advisors can help with all stages of the process from research to acquisition.
For existing property owners, the opportunity may lay in evaluating if their current assets can be leveraged to buy-in. A shift from cost-inducing multi-family units or condos to single-family units could create the kind of return on investment that would strengthen a portfolio and the bottom line.
However one looks at the situation, single-family rentals represent a smart investment option for those whose wealth is staked to shrewd decisions in the property market.